I cannot believe it's been six weeks since I started participating in this lovely little experiment. I have to say it's been fun without feeling overwhelming. I really appreciate all the feedback I get each week. You ladies are da bomb! I feel so pretty...yay!
OK, so this week

Miss Courtney got some rockin good news

!! We are thrilled beyond belief that God has granted us yet another miracle with our Court. Now we still have two weeks to go and really, when it comes to the Princess anything goes, so we will keep praying that she can come completely off the Depakote. This is totally in God's hands so we pray and hope...then pray some more. Whatever happens we will ALL be OK.
So it's the first Sunday in Lent and at our parish this morning, married couples got to renew their wedding vows (Since Thursday was Valentine's Day). This is always such a moving moment for me to look into the eyes of the man that has held my heart for so long. The words exchanged mean so much more than they did nearly 24 and a half years ago. They are tested, tried and true. So I chose to wear my hubby's favorite color on me, blue.
Now for this weeks fashion details. It is cold today. Like 29 degrees cold. For Northern VA, THAT is cold. I am sure many of you who live North and west of here are in much colder climates and probably think I am a big weenie for even mentioning the incredibly frigid temps. That's OK. I am...I accept my limitations. I decided to channel my inner "Mary Mad Men" look. Christina Hendricks I am not.
Here we go...I apologize for the funky pose as well. I had to keep moving or else I would freeze in place. Yea..yea...yea...wimpy...got it...
It's BELTED!!! Wahoo!!
My Outfit:
Cobalt Blue Rouched Sweater : Dress Barn (clearance last year)
Green Patten Leather Belt : Target
Shoes : DSW I think. They are at least five years old. Classic never goes out of style.
Green/Blue Wool Pencil Skirt: Lane Bryant, two years ago maybe three. It's really loose on me right now. I need to have it taken in. YAY!
Necklace, Earrings and Bracelet: I have no idea...yes, I have owned them that long.
Brand new Pink Lipstick: Oh my gosh buying new lipstick is so much fun. I really went out on a limb with this shade. Bought last week with a coupon at Ulta. It's

"Betsy"

by Stila. Hubby really liked it.
Miss Courtney has been doing so well. However this morning she did not want to sit still for photos, so pardon me if they are slightly blurry. When the girl wants to move, she moves. Camera be darned. She was channeling her inner legal secretary this morning with this ultra preppy look. She even let me put in a headband AND shoes. Usually she only wears them for the photos and then they go flying across the room. First headband then shoes. She is a fiery little number my Courtney.
Courtney's Outfit:
Navy Blue V-Neck Cardigan Sweater : Gap or Target...don't remember
Grey Slacks : Dress Barn ( I need to hem them by about 2 inches)
Blue/Cream Print Blouse : Gap (purchased w/ gift card last week w/ coupon on SALE! Score)
Plaid Headband and Grey Tights : LLBean (last year)
Navy Blue Mary Janes : Stride Right (last year)
Go take a photo and join us won't you? Head on over to

FineLinenandPurple and link up. Then you can head over here to Lily Among the Thorns with My Style, Your Style Link up or

Watch What I'm Wearing, celebrating modesty and fashion

.

I'm also over at Sunday Style @ Plane Pretty

and

Diary of a Brown Eyed Girl.

It's a party!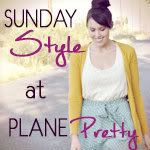 Labels: Courtney's World, What I Wore