I hope you and yours are enjoying a lovely almost spring day filled with a little fun. I am looking forward to spending the afternoon with dear friends visiting and chatting about the exciting weeks ahead as Easter fast approaches. There is the Pope Francis's installation on Tuesday and then Palm Sunday, Holy Week and finally the Triduum. There is also a friends birthday celebration and of spring cleaning during the last two week of Lent.
So much to do and it will all get done one step at a time I suppose. The lists are made and the supplies are ready. So today we rest and tomorrow we work. It is as it should be.
Anyway...let's talk spring fashion shall we. As you can see from today's outfit I embraced my inner leprechaun and went with the green theme. We were a little more casual for Mass this week because we have Youth Ministry afterward and that means a rather long day, so comfort was key. I am hoping that it's not too matchy matchy. I built the entire outfit around the shoes. Are they not the most outrageously fun pair of shoes you have ever seen?? They are by Tommy Hillfiger and before you think that I spent a fortune on them, think again. I paid $35 for these babies when they originally sold for $146 but thanks to a coupon at DSW, they came home with me. I absolutely love them!
The blouse and cropped pants are Charter Club from Macy's, again bought a a pretty steep discount. I have such short legs I had to hem them up by two inches in order for them to hang right. Now that I see the photos, I am thinking that I may have lost enough weight to retire these. I don't know, they look very loose.
I also look tired. I am tired. Happy...but tired.
The bubble necklace was bought on-line from Amazon and the earrings were a gift. The gold bracelet is the same form last week. The glasses totally change my face, but at least I can see where I am going. I don't need them all the time, but lately I have been wearing them more and more. Ahh aging is fun!
But really it is all about the shoes. So LOVE the shoes...sigh...
Miss Courtney is embracing her inner McFlurry this morning. She likes it so much, that she gave it the "Pirate Eye" of approval.
I do love her in any shade of green. I chose mint skinny jeans from the Gap, a paisly sweater and mint green gingham blouse from jcpenney's Joe Fresh Collection. I love that collection. Most of it looks like JCrew or the Gap but at 1/4 the price. Awesome!!
The funny St. Patrick's Day socks come from my sweet friend Deb who knew Miss Courtney needed the perfect sock to rock on this most festive occassion. The Oxford shoes are from Stride Rite which you have seen before.
Courtney enjoyed a visit with her favorite pup Miss Lilo this morning. They are good buddies. Lilo enjoys liking all the leftover breakfast off of Court's face. Best snack ever!!
Pardon the lovely bandaid on her sweet face. She has a wicked little scratch and I needed to treat it so she wouldn't make it bleed again by rubbing it.
The coat comes from New York and Company that I got on a serious sale right before Christmas. The original price was $75 and I paid $25. I do love a good sale. I am learning that patience is a virtue when it comes to shopping. My friend Christine has taught me that. That woman is like a lioness hunting for her little ones. She has mad skills that one...mad skills!
So there you have it my friends. Another edition of What I Wore Sunday. Erin Go Braugh!! Have a great week.
Go take a photo and join us won't you? Head on over to

FineLinenandPurple and link up. Then you can head over here to Lily Among the Thorns with My Style, Your Style Link up or

Watch What I'm Wearing, celebrating modesty and fashion

.

I'm also over at Sunday Style @ Plane Pretty

It's a party!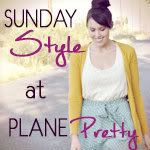 Labels: Courtney's World, What I Wore