Oh what a weekend it has been. All I can say is that I am happy it's Sunday. It's not been a horrid, just so very busy with lots of little projects around the house along with one private NFP class and one group class with six couples, then there were Confirmation parties and Youth Ministry tonight and I am one tired cookie. Even my goofy face looks tired...seriously tired...my eyes don't even cross...I am so done...LOL!
You can tell in these photos. Miss Courtney was not happy this morning either so there you go. We got dressed and took photos anyway just for you...that's how much we love you all.
Mary's Outfit:
Yellow Ruffled Top / DressBarn
Earrings / Charming Charlie's
Khaki Pencil Skirt / Calvin Klein @ Macy's
Taupe Ruffled Bottom Cardigan / Lane Bryant
Shoes / DSW (40% off)
Here we go. This weeks lesson is "Mary, you should not wear neutrals as a base of an outfit. It makes you look as tired as you feel." End of story.
I am a sassy woman by nature and that reflects in my clothing choices. When I don't feel sassy, I look like a wet dishrag. Hence this mornings choices. Of course I never realize this until after I take the photos but oh well. Just keeping things real.
This is not to say that pieces and parts of my outfit are my kind of sassy. The bling on the ears as well as the fab.u.lous shoes purchased at an equally fabulous price. Hallah! I may be tired but I can still rock a pair of heels sista!
Ahh, Miss Courtney. She is doing so well these days. Thank you so much for your prayers and support for my girl. She is down to one grand-mal seizure a day and we are just so thankful for that. As you can see from the photos, she wasn't in a smiley place this this morning but I took the photos anyway. I am a cruel mother ya know.
Courtney's Outfit:
Orange Gingham Dress / Eshakti (my very first purchase...so very pleased with the results)
Orange Chuck's / Stride Rite
Ice Blue Cardigan / LL Bean
I LOVE this dress!! It's my first purchase from eShakti and I am so happy with it. It's fits my girl like a dream. The color and cut are spot on for her. They also let me adjust the length which was so awesome. No flashing Fr. B as we receive Communion. Always a plus in my world. And I have to say, it's really stylin with her orange Chucks.
I also braided her hair for the first time today. It's like working with an octopus. Not sure if I am going to be able to do it very often but we shall see. It look cute though.
Have a fabulous Sunday everyone!! I am going to take a nap.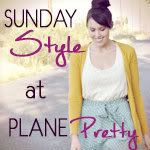 Labels: Courtney's World, What I Wore