It has been a loooonnnggg week here at Chez Lenaburg.

Miss Courtney went down for the count on late Tuesday evening and is still down for the count.
The fever has come and gone, twice. So far today she has been fever free for about 10 hours which is a huge blessing. Since the two of us are quarantined by doctors orders, we did not get to go to Mass. Usually when Courtney is sick, Jerry and I take turns going to Mass but this stuff is nastiness times twelve so the Doc suggested she and I just remain home until her diarrhea stops completely.
Needless to say it has been a very long, smelly, tiring week and it looks like there is more fun to come.

Right now we are watching to make sure all the upper respiratory gunk doesn't settle in her lungs. Pneumonia would not be good for her. Not at all.
The many kindnesses that have poured out in these last few days have been wonderful and so sweet. Coffee left on the porch, dinner delivered, flowers to look at, email encouragements and gift certificates to keep the coffee coming and iced tea on a hot afternoon. God is so very good, so very good. Thank you so much.
When this all first started I knew I needed to do something to keep myself focused and prevent my typical trip down the self-pity rabbit hole when I am homebound for more than three days. So I asked for your prayer requests and gratefully you sent them.
I cannot tell you what a difference it has made during this time. To have someone else to be thinking of and praying for while changing horrid diapers, rocking a crying daughter, having a hard time sleeping while listening to Court hack and cough the night away or doing the fifty-seveth load of laundry has been a HUGE blessings to me. Truly it has.
I can't really explain it I just know that it has helped me so thank you...thank you.
If you are just reading this request for the first time then please help me take advantage of Miss Courtney and my homebound time.

Let us pray for you...it would be our privilege.
As for what I am wearing...well lets just say yoga pants win the day along with a soft cotton top and warm wool socks.
This is what Courtney and I have been doing all week long:
holding...
kissing...
loving and healing...
Have a great week everyone. We will be here taking it one day at a time. Maybe we will get dressed in real clothes by next weekend. Only time will tell. Thank you so much for all your prayers and good wishes for my girl.
Go take a photo and join us won't you? Head on over to

FineLinenandPurple and link up. Then you can head over here to Lily Among the Thorns with My Style, Your Style Link up or

Watch What I'm Wearing, celebrating modesty and fashion

.

I'm also over at Sunday Style @ Plane Pretty

It's a party!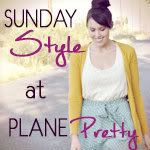 Labels: Courtney's World, What I Wore