Hey it's my sweet sixteen here at What I Wore Sunday so I thought i would throw a little party and invite a few of my favorite people. The whole family got to go to Mass together today since Jonathan got a rare weekend off. My two guys had no interest in celebrating with me so I dragged in my BFF Christine or as we loving call her "The Deacon's Wife" and her two beautiful girls Miss Hannah and Miss Victoria.
These two lovely young ladies come to my home every week and help me out with my Courtney. They read to her, help me with her exercises and take her for walks. They are the very BEST Mother's helpers a girl could ever ask for. I am blessed by their love for my daughter and their willingness to help me with their care.
We took the photo right after the 11 a.m. Mass this morning in front of our parish. The wind had picked up a wee bit and the sun was bright. Miss Courtney had not seen the sun in two weeks so decided to just close her eyes.
This was her first big trip out and about since falling ill two weeks ago. It was so wonderful to see her receive Communion today. She is still dealing with some residual sinus issues but all in all is doing 100% better. Thank you dear friends for ALL of your love and prayers during the last two weeks. I am humbled and honored to continue to carry YOUR prayer requests with me daily. Please never hesitate to reach out and share with me what is on your heart. To be able to lift another in prayer is a gift to me.
As for what everyone is wearing...well Miss Hannah to the left is wearing a hand me down from her Aunt Lani with the most fabulous black strappy sandals that were brand new. Next to her is her younger sister Victoria and she is wearing a new dress from Dressbarn. Miss Courtney is wearing a sweater from the Gap, a blouse from JCPenney and a new skirt my friend Kathy made for her. Her lavender sequins loafers are from Stride Rite.
My dress is from Charter Club and I am not quite sure about it. I love the pattern but I don't think it is all that flattering. I am still losing weight and I felt comfortable in it but I am not sure it's doing my figure any favors. I will have to think about this one. I purchased it on a wicked sale so I am not worried about getting my moneys worth. This is the second time I have worn it and it may be the last. We shall see.
I just feel very "grandma-ish" in it. What say you my sweet friends? Honesty is the best policy so have at it.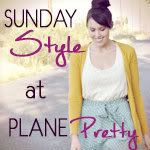 Labels: Courtney's World, What I Wore