I know...more black accessories...I need to branch out a little.
Hello my fellow fashionistas!! Happy Cinco de mayo to you all...cha...cha...cha...
First, let me say thank you so much for all your sweet comments last week. I took in everyones suggestions and decided that since I didn't love the dress and I am still losing weight, I will be gifting someone else with it. It's just not worth the time to make the changes I want. Before I finished I would be down another size and looking for something more exciting.
I love the "waist" detail on this dress. It helps "suck" everything in.
Well that and the Spanx!
Also, you might want to check out yesterdays

Celebration

post. I was very happy with that particular look for my nieces First Communion. It was sassy and you know I like sassy.
Today's edition of What I Wore Sunday is brought to you by the "ThankGodforSpanx"and "Miricleofunereyeconcealer" company our newest sponsers here at Passionate Perseverance, or at least they should be.
Whew...honey it has been a busy 36 hours and this girl is done worn out and I still have to face 100 teenagers tonight at Youth Ministry. So today I went for easy peasy. The dress is from Dressbarn and the sweater is a gift from my mother. Talbots I believe. The shoes have been with me for years as have the accessories.
The sweater is one of my favorite shades of blue...ice...ice...baby!
I would LOVE your recommendations on a great "gentle" under eye concealer. I have rather sensitive skin and tend toward natural cosmetics but I need help with these circles under my eyes. So comment away.
Miss Courtney and her Papa before Mass...bright at the sun...
Miss Courtney put on her "Big Bird" tights as Daddy calls them, a gifted skirt from Talbots, a blazer from JCPenney and a blouse form the Gap for her colorful interpretation of a "Circus Clown Beauty Queen". I thinks it's OK.
I just wanted to see her in some fun color today and this is what I came up with before coffee. My husband said he was happy she is blind or he said she would have stoned me. He kept singing "blinded by the light..."
Your thoughts?? Not to worry. Mama is a big girl. I can take it.
YELLOW tights...
Go take a photo and join us won't you? Head on over to

FineLinenandPurple and link up. Then you can head over here to Lily Among the Thorns with My Style, Your Style Link up or

Watch What I'm Wearing, celebrating modesty and fashion

.

I'm also over at Sunday Style @ Plane Pretty

It's a party!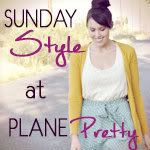 Labels: Courtney's World, What I Wore